The Top 5 T-Shirt Printing Machines of 2019
Shirt Printing Machines
Your choices for garment decoration are ever-expanding. Today's options include traditional screen prints, embroidery, applique, transfers and the increasingly popular digital direct-to-garment (DTG) printing.
Since its inception, the number of manufacturers and models in the DTG market space has been in constant flux. Many well-marketed machines, once prevalent in discussions and trade show halls, have now nearly vanished.
However, over the last several years there have consistently been a handful of manufacturers leading the pack. Below, we've compared 2019's top five DTG t-shirt printing machine models:
Epson F2100

Brother GTX

Col-Desi (DTG Digital) M2

Kornit Breeze

M&R M-Link-X
Epson F2100
At roughly 3' by 5', the Epson F2100's footprint is more rectangular than the GTX from Brother. And at just over 1.5' high, it's certainly smaller. This is a table or bench top design and is not free standing, so you'll need to plan on where it will be setup. Overall, the F2100 is a very quiet operating machine with a polished, put-together profile that works as easily in a home-based business as it does in a full production environment.
Pricing:
MSRP: $17,995

Est. Street Price: $15,995
Brother GTX
At 4.5' by 4.25,' the GTX is a little boxier and immediately conveys an industrial look with its predominately metal exterior. The GTX is a table or bench top unit, but with a custom stand available. This stand is recommended, as it allows users to take advantage of the open bottom design of the printer for humidification, which is often necessary for consistent operation.
Pricing:
MSRP: $22,500

Est. Street Price: $22,500
Col-Desi (DTG Digital) M2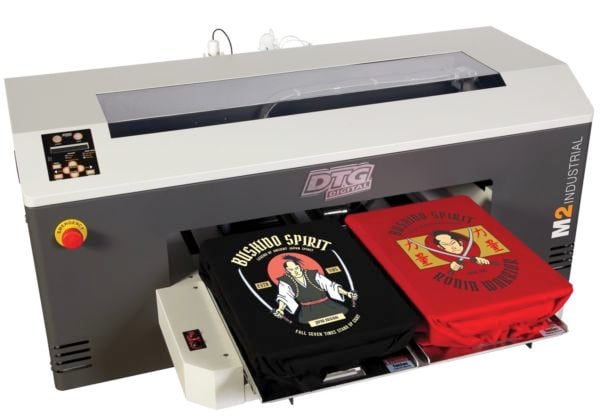 Being the only dual platen printer of this group — meaning there are two platens to load t-shirts instead of just one — the natural thought would be that it has a much larger footprint. At about 4' x 3,' it occupies a similar space as the Brother, but with a much larger shadow as it's nearly a complete rectangle.
A tabletop/bench top unit as well, the M2 will require proper arrangements. Quieter than the Brother GTX but not to the level of the Epson F2100, this unit can be an option for users that need an extra-large imaging area.
Pricing:
MSRP: $19,995

Est. Street Price: $19,995
Kornit Breeze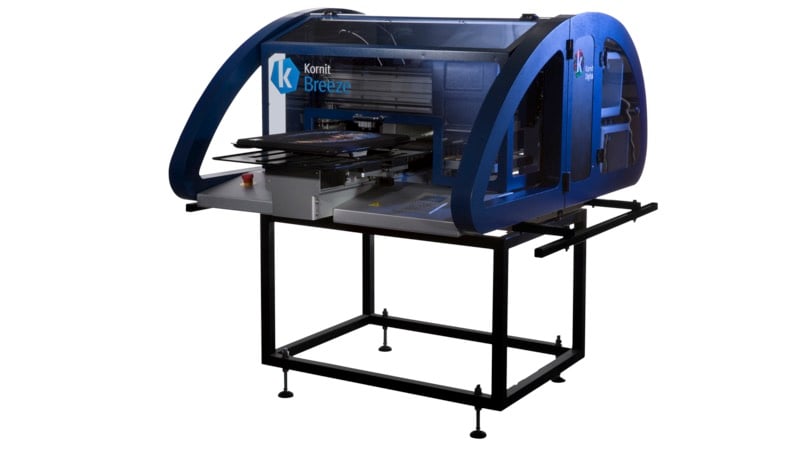 As the introductory machine from Kornit, the Breeze is the smallest in their line-up but one of the largest in this group. The 4' x 5' framework is the most modern looking by far. As the only machine in the group with an integrated pre-treatment system, the overall footprint may be smaller. Kornit's inks are typically cured with a gas dryer, which can serve as the base table for this printer.
Pricing:
MSRP: $65,000

Est. Street Price: $62,000
M&R M-Link-X
As the only free-standing unit in this group, the M-Link-X also has the distinction of being the largest at 4.5' x 5.5.' With a rugged steel frame and squared-off edging, the M-Link has the most industrial look and feel. Not the best option for home-based businesses, this unit is better suited for a production environment.
Pricing:
MSRP: $74,995

Est. Street Price: $70,995
See all pricing in the printer comparison table below
Target Audience
In comparing these models, it's best to start with their intended target audience.
M&R and Kornit's focus has always been toward production shops while Epson, Brother and Col-Desi have tried to broaden their audiences to include smaller garment shops and even sign and graphics shops, where t-shirts are often a complementary workflow.
In the cases of Epson and Brother, they've taken that a step further by targeting home-based businesses with their ease of use as well. That's not to say that the F2100 and GTX can't handle production, because they are both capable of running regular shifts in production shops. (Note the production volumes in the chart below.)
source